NBA Friday night is loaded with plenty of very interesting games, but our focus will be on the Phoenix Suns who visit the Oklahoma City Thunder. The Suns fans hope their team will bounce back after a disappointing season opener 113-94 home defeat to Sacramento Kings. The Thunder, on the other side, are off to a good start after defeating the young Philadelphia 76ers with a final score off 103-97 at the Wells Fargo Center in Philadelphia.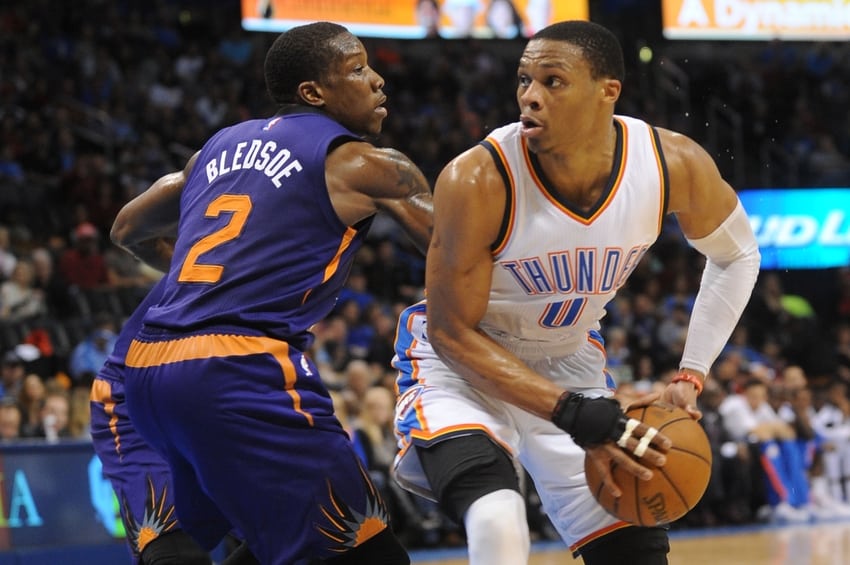 The Thunder enter this game as a -10 favorite and should by all means dominate throughout the game. But let's take a closer look at some of the stats that should indicate who might come out as the winner from this matchup!!!
The Suns were horrible in away games last season collecting only 9 wins and 32 losses. The overall season record was 23 wins and 59 losses. Their record in away games last season is not raising high hopes as they visit the OKC Thunder who are one of the better home teams with a last season record of 32 wins and 9 losses at the Chesapeake Energy Arena and 55-27 overall. Both teams scored over 100 points per contest last season. The Suns were just over the 100 point margin, putting up 100.9 ppg, while on the other side the Oklahoma City Thunder were a bit more efficient offensively, scoring 110.2 ppg (no wonder, considering the had two scoring machines in Durant and Westbrook)!!!
Sign up for a FREE Consultation to start working with Legendary Sports Bettor Jon Price
Defensively, both teams were allowing their opponents a lot of points. The Thunder gave up 102.9 points per contest while the Phoenix Suns were even worse, allowing 107.5 ppg.
Looking at the points per game stats of each team, its noticeable that this could turn out to be a high scoring game. The current TOTAL over/under is set to 209, but taking in consideration their last three matchups (OKC won in all three games) the total has gone OVER the 209 total points margin.
The Key Players!!!
 Key players for the Phoenix Suns will be their two guard combo Eric Bledsoe and Devin Booker. Both of them had a solid season opener performances as they score 16 and 18 points respectively. Bledsoe also dished out 5 assists while grabbing 6 boards. He is entering this season with a lot of confidence gained during the last year when he averaged 20.4ppg, 4.0rpg and 6.1apg in just over 34.0 minutes on floor. Booker, the second year-pro will look to continue his rapid development as he is slowly becoming the most recognizable face on the inexperienced Suns roster. To surprise of many, Booker simply exploded last season averaging 13.8ppg, 2.5rpg and 2.6apg. Very impressive was his performance during the month of March when he averaged over 28 ppg in a 5 game streak. In his first game of the new season he scored 18 points (8-12 for 2, 0-3 for 3 and 2-5 from the free throw line), grabbed 2 boards and dished 3 assists.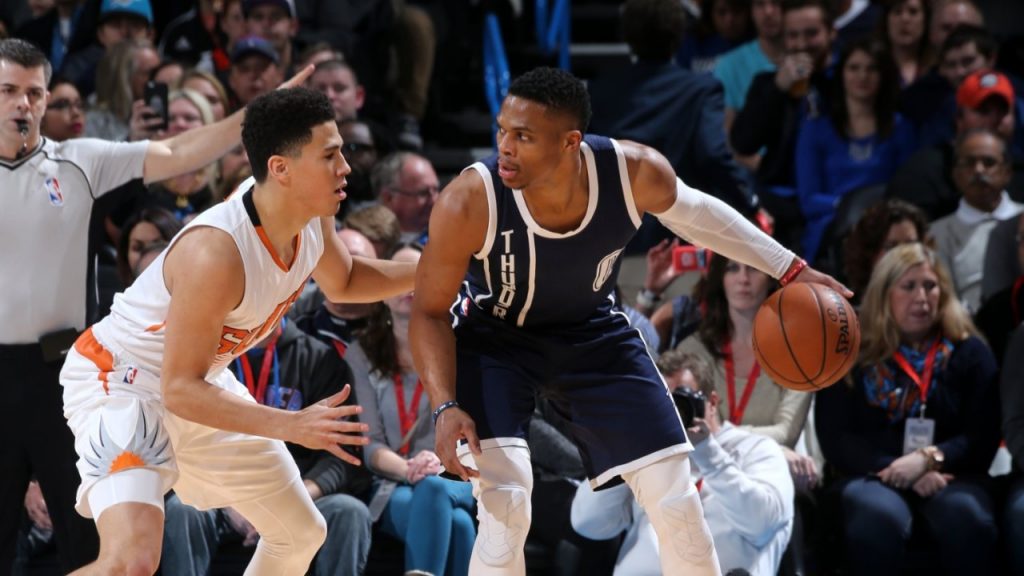 Another player that was one of the leaders last season was Brandon Knight, who started the first game on the bench. In almost 26 minutes of action, he managed to 7 point with 5 assists and 1 rebound, while shooting from the floor 1-11 and 5-6 from the free-throw line. Last year he averaged 19.6ppg, 3.9rpg and 5.1apg.
On the other side, the OKC Thunder is all about Russell Westbrook. With Kevin Durant out of the picture, the only remaining superstar now is Westbrook (remember the time when they had James Harden, Russell Westbrook, Kevin Durant and Serge Ibaka all together???). Do we need to mention that "Mr. Triple-Double" showed up big in the season opener??? Yeah, I know he did not record a triple-double, but he did came very close, scoring 32 points along with 12 rebounds and 9 assists. Not bad, huh??? Anyways, Westbrook will have all the shoots necessary and open looks in order to bring Ws for the OKC Thunder. Last season (with KD on the team!!!) he averaged 23.5ppg, 10.4apg and 7.8rpg in 34.4 minutes on the floor.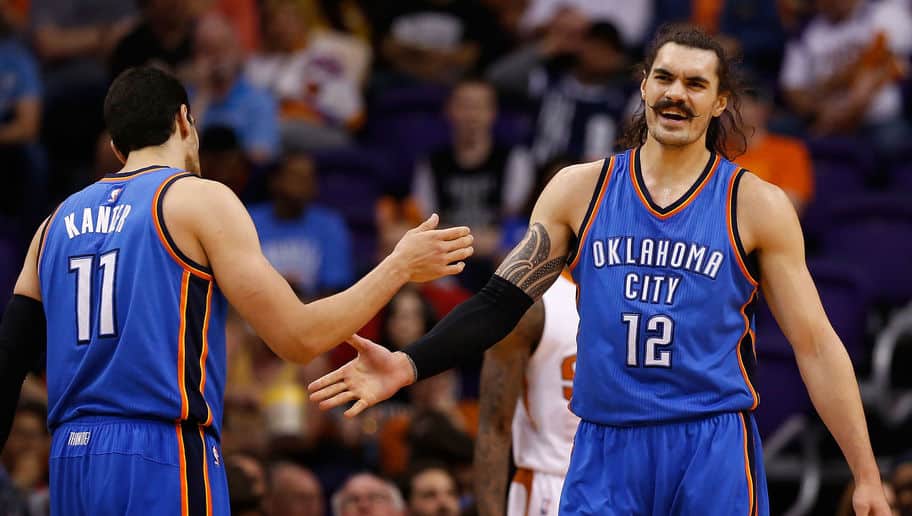 Additionally, Victor Oladipo has probably benefited the most from the OKC Thunder – Orlando Magic trade. Paired up with Westbrook at the guard position, Oladipo will use his energetic style of play for penetration to the basket and should score bunches. Last season he was at the averages of of 16ppg, 4.8rpg and 3.9apg which was more than expected really!!! In the paint, the Kiwi, Steven Adams should use his dominant presence to control the boards and protect the rim, but furthermore he will be very useful offensively as well. Last season he averaged 8.0ppg, 6.7rpg and 1.1bpg in just over 25 minutes of action. But his first game of the new season is the real indicator of what's to expect in the 2016/2017 season. Namely in the unconvincing 103-97 win over the Sixers, Adams scored 16 points along with 5 boards in 36 minutes.
In a high scoring, fast pace game, the Thunder should strike more than twice as the Westbrook gang will take this one and defeat the Suns with a comfortable point's margin.
Phoenix Suns Betting Trends
The Phoenix Suns were 36-46-0 against the spread last year
The Phoenix Suns were 40-42-0 against the over/under last year
Oklahoma City Thunder Betting Trends
The Oklahoma City Thunder were 37-43-2 against the spread last year
The Oklahoma City Thunder were 39-43-0 against the over/under last year
Phoenix Suns Injuries
No key injuries to report
Oklahoma City Thunder Injuries
10/22/16 PG Cameron Payne (Foot – out indefinitely)
10/22/16 F Mitch McGary Suspension (could to miss 15 games)