Posted on October 27, 2016, by Travis Pulver
Jimbo Fisher is probably telling his team that they still have a shot at the college football playoffs this season, and technically, they do. If they can win out and if a couple other teams could lose a game or two, they could still make the ACC Championship Game. It's a long shot that will require them to beat Clemson this weekend and a very tough Florida team to end of the season
So it is possible; improbable, but not impossible. Of course, if you ask a Clemson fan they will tell you the Seminoles don't stand a chance—but they do.
Sign up for a FREE Consultation to start working with Legendary Sports Bettor Jon Price
Freshman quarterback Deondre Francois has played well this season. His career started off with a bang, a come-from-behind win over Ole Miss in the season opener. The spotlight didn't appear to affect him at all as he completed 33 of 52 passes for 419 yards and a pair of touchdowns and rallied the team from a 22-point deficit on to an 11-point win (45-34).
The good times have continued except for a loss to Louisville in a very tough game and another to North Carolina—but overall, Francois has played well. He's completed 62.4 percent of his passes and thrown just three interceptions in his first seven games; a trend he'll need to continue to beat Clemson. But that will be easier said than done against the Tigers ball-hawking defense (tied for No. 8 in the nation with 11 interceptions this season).
To make life easier on the freshman, it will help if Dalvin Cook can get started early. After a slow start to the season, he has turned on the jets in the last four weeks with an average of 168 yards a game on the ground. Three times he combined for more than 200 total yards of offense and once he had over 300.
Clemson's run defense is good, but not great and will be hard-pressed to slow down Cook. They will certainly look to hold him far below the 194 yards he ran for them in last season's game.
The best defense Clemson may have against Cook may be their own running back, Wayne Gallman. He suffered a concussion against North Carolina State a couple of weeks ago, but with two weeks to heal he is expected to play. He hasn't had as many explosive games as Cook, but he does have three 100+ games under his belt this season—two of which came against decent defenses (Auburn and Louisville).
Nothing keeps a running back off the field quite like another running back chewing up yards himself.
The game will come down to which defense can slow the other's offense down the most. Clemson is only allowing 15.3 points a game and is limiting teams to less than 300 yards a game (166.1 passing, 132.4 rushing). Florida State gave up 35.4 points a game over the first five games, but over the last two they gave up just 25 points—19 to a good Miami team and six to Wake Forest.
With their running game, Florida State has been averaging over 35 minutes of possession/game. If they can keep that up, they will have an excellent chance of winning the game. An interception or two from Deshaun Watson (who has eight) wouldn't hurt either.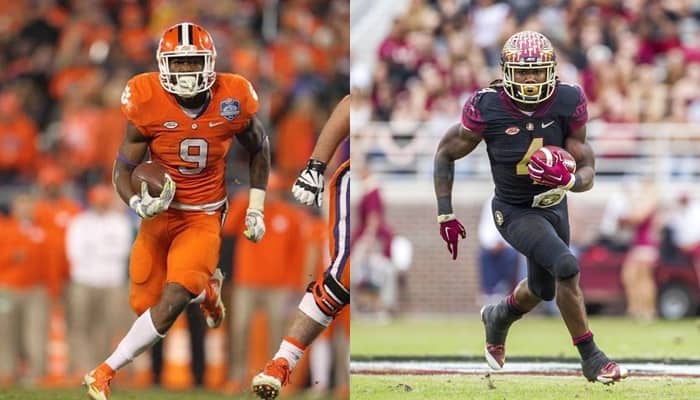 However, Clemson may not need to possess the ball much to score enough to beat the Seminoles. They are averaging around 27 minutes a game so far this season (104th) and 36.6 points (No. 26). However, history hasn't been kind to Clemson whenever they play in Tallahassee. They haven't beaten Florida State in Tallahassee since 2006.
This game has the potential for greatness. Should both teams bring their "A" game, this one could come down to who makes the first mistake–which plays into Florida State's hands. Clemson has turned the ball over 16 times (eight fumbles, eight interceptions) while Florida State has only done so nine times (five fumbles, four interceptions).