Nationals Park

Washington Nationals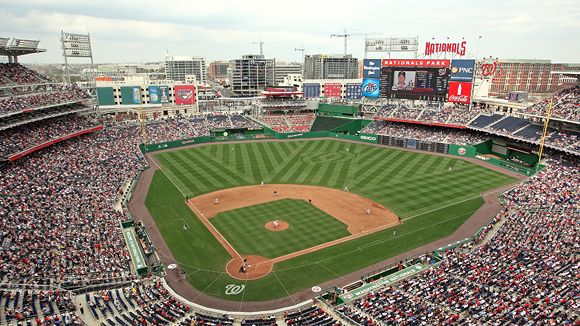 About Stadium
An open-air ballpark built in Washington, D.C. Nationals Park is the home field of Major League Baseball's Washington Nationals.
After relocating to Washington in 2005, the Nationals played their first few seasons at the NFL's Washington Redskins' former home, RFK Stadium.
The park was designed by Washington D.C.'s own HOK Sport architecture firm, now known as Populous, in collaboration with Devrouax & Purnell Architects and Planners.
The original cost of the stadium was estimated to be around $611 million, but grew to around $693 million by time the park was completed.
• 1500 South Capitol Street SE
Washington, D.C. 20003
• Opened: March 22, 2008
• Capacity: 41,313
History
• The park was constructed in just under 2 years with ground breaking on the project made on May 4, 2006 and the first game played at the park on March 22, 2008 which was a college baseball game.
• Shortly after the announcement was made that the Montreal Expos would be relocating to Washington D.C. to become the Nationals, the site for the park was chosen on September 21, 2004.
• In the Washington Nationals' first game at the park, they defeated the Baltimore Orioles by a score of 3-0 in an exhibition contest.
• The stadium has also hosted major events outside of sports such as when the Pope Benedict XVI made his trip to Washington D.C. people gathered at the park to see him.
Current and Past Teams
Washington Nationals (MLB) (2008–present)